How to Play Video Poker – A Guide to the Rules of the Game
There are so many different video poker games available at countless online casinos that it can be difficult for a beginner to know where to start. This guide will explain how to play video poker, the different game variations and their rules, as well as how it works with real cash.
Jump to Your Chosen Video Poker Rules Topic
To start with, we cover the basic video poker rules, then move on to how to play video poker, and how the variants differ from one another. We'll provide step by step instructions on how to get started, as well as provide some helpful resources to download and keep.
Video Poker Rules – How it Works
There are many different types of video poker variants, so it's understandably easy to get confused. However, most of them follow the same basic gameplay, as well as usually follow the same hand values as in Texas Hold'em, which we'll describe further below. We'll also cover the other basics you need to know to help increase your chances of winning. Of course, you'll still need to be lucky, but knowing the right choices to make will be a helpful addition.
The Objective of a Video Poker Game
Understanding the video poker game rules will be easier once you understand how it all works and your goals when playing. The following section will explain each of the four major steps you must take when playing video poker, and what to look out for when making them yourself.
Place Bet & Deal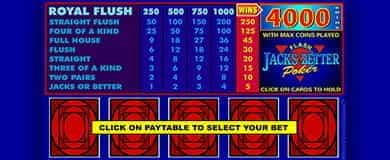 The first decision is to select the amount you wish to wager by selecting the coins and their value. Then, click the DEAL button to be given your hand of five cards.
Review Your Cards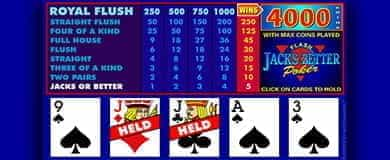 Eligible cards will automatically be held by the game, and you can now review the status of your hand and decide what actions you wish to take in the next step.
Choose Cards to Hold & Draw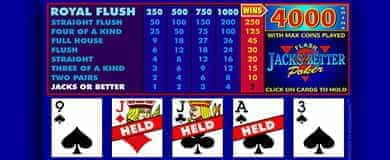 Based on your revision of your hand and your understanding of hand values and their probabilities, select which additional cards, if any, you wish to hold on to. Other cards will be replaced.
Collect Winnings, Double, or Start Again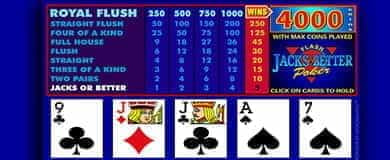 If you hold a winning hand, the amount of the payout will be highlighted on the paytable. In some games, you will have the option to double, opening a chance game of player vs the dealer for the higher card.
Of course, each variant will have its own video poker game rules and tweaks to the above steps, however they are mostly following this progression. As you see in step two, the eligible cards will be held automatically based on the lowest possible winning hand, which could be tens in some games, or kings in another. You can unselect these cards if you believe that taking your chances for a different type of conversation will be better, statistically. This will vary from game to game.
Step four also notes the inclusion of the option to Double. Not all variants will offer this choice, and it is not always in your best interest to do so. If you Double, you face off against the dealer, wherein two cards are drawn: one for the dealer and one for you. If you have the higher card, you win twice your payout from the previous winning hand. If you lose, you lose all winnings. You can Double as many times as you want until either you lose, or you click to Collect.
Winning Hands
The aim of the game, then, is to hold a hand that is worthy of a payout. Though this will depend on the variant which hands are considered high enough to be winners, they will almost always follow the same rankings as regular poker. The hand rankings, from most valuable to least, are: Royal Flush, Straight Flush, Four of a Kind, Full House, Flush, Straight, Three of a Kind, Two Pair, Jacks or Better, and Tens or Better.
If your hand holds an Ace, King, Queen, Jack and Ten of the same suit, then you have a Royal Flush – which will often trigger a jackpot should you wager the maximum amount of coins. Then, a Straight Flush is any five consecutive cards of the same suit – compared to the much lower paying Straight, which is just five consecutive cards of any suit. Three/Four of a Kind is pretty self-explanatory, as is Two Pairs. A Full House is when you have a pair and three of a kind, while Jacks/Tens or better is a single pair of cards valued better than Jacks or Tens, respectively.
Video Poker Winning Hand Rankings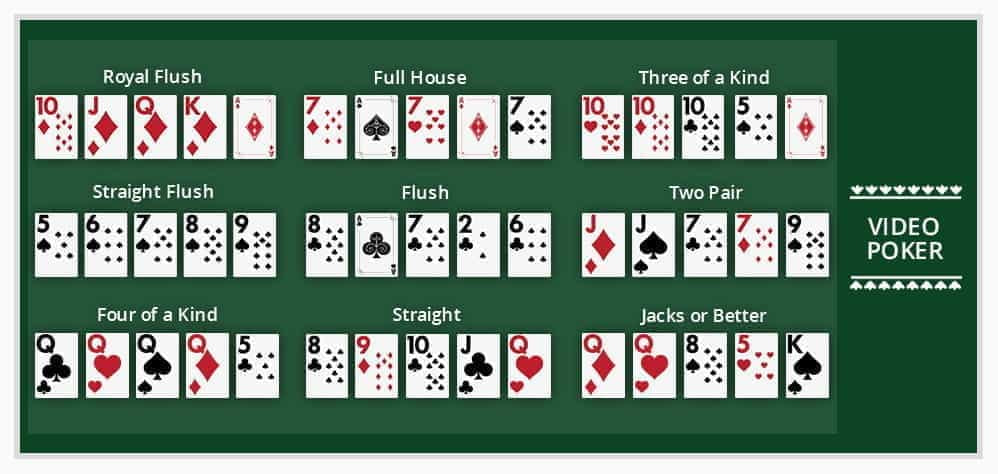 Pay Tables
I've mentioned the pay tables earlier, but what exactly are they? They're actually the first thing you will need to interact with, when you open a new game of video poker to play. There will be a list of the hand rankings as explained above, and values next to them. These values are how much you will win, should you hand hold the aligned card values. The amounts will increase based on how many coins you wager and their value, and you can choose which row you wish to wager at this stage.
In this table, you can see which hands pay what amounts, and have a constant reminder of the lowest possible combination to result in a payout. Again, this depends on the variant and its rules on how to play video poker. Once you have selected the pay table option you prefer, you can begin the game, and you can change this selection when you start again with any new game.
An Example Video Poker Pay Table from Jacks or Better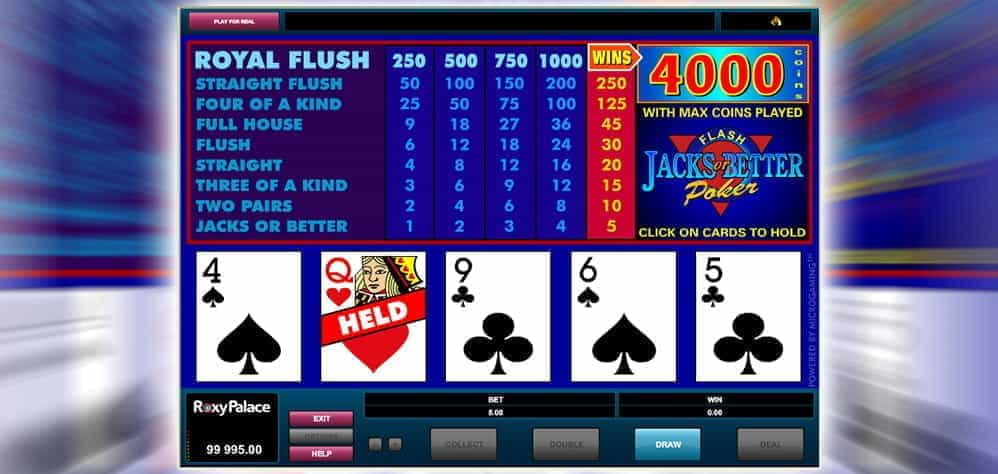 How to Play Video Poker
If you're looking at the video poker game rules and still have no idea where to start, that's no problem. The following section will give you an overview of a standard video poker game layout, explain all of the different selection options and buttons, and give you a walkthrough of which buttons to press and when. By the end of it, there will be no confusion left for what you need to know to play video poker.
The User Interface & Buttons Explained
Though each video poker rules of play will result in there being a slightly different game board for each variant, they will likely all include some similar sections and buttons. The paytable will be clearly displayed in a table of payout amounts, and you'll have a collection of buttons you can use across the bottom for both play actions and betting alterations.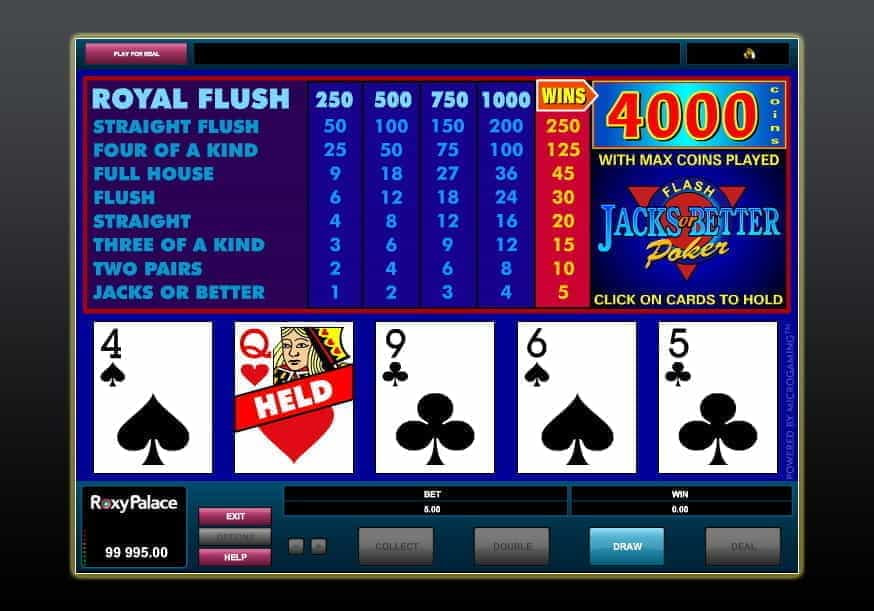 Deal:
Clicking this button will begin the game, placing five cards into the player position.
Draw:
This is the second button to use while playing, which will see your extra cards that are not held, replaced with new cards.
Collect:
If you hold a winning hand after the new cards are drawn, click the button to collect your win.
Double:
If your hand is winning, this button will start the 'doubling' mini game. You will compare cards with the dealer – highest card wins.
Player Position:
The plus and minus buttons adjust the amount of money that your wager.
Change Wager:
This is where your cards will be dealt, as the main playing position of the table.
Pay Table:
This information dictates how much you can expect to win, based on your wager and which row you select.
Wager Amount (Bet):
This is the cost of the wager you are about to make. Use the Change Wager plus/minus buttons to adjust this to fit your budget.
Everything is clearly labelled, so even if the buttons are placed in a different area of the screen in a particular variant, you will be able to find them. There will be special buttons and extra player positions for some variants, so always play a free demo to learn the video poker rules of play before wagering cash money.
A Video Poker Walkthrough
Sometimes the best thing to do, if you're not sure how something functions, is to watch someone else do it first. We've put together a helpful video showing you the step by step actions that you must take to play a hand of video poker. It will give you the confidence to know what to do when confronted with the game itself, so watch if through as many times as you need to, in order to fully understand.
Choosing the Right Video Poker Variant for You
As we've mentioned already, there are many different variants of video poker that all feature their own twists on the classic game, as well as having different pay tables, return to player (RTP) rates and house edges. We'll explain the highlights and rules to the most popular video poker variants below, as well as provide a handy PDF download for you to print and use as a resource.
The most popular video poker variants and their unique rules and gameplay mechanics are all explained in this handy guide, which you can download for free right now.
Jacks or Better
One of the most common options when it comes to online video poker, Jacks or Better is named after the lowest possible winning hand of the game. Confusingly, it refers to a Pair of Jacks or better, so don't go thinking that a high card of this value will be considered a winning hand. The game has an RTP of 99.5%, making it perfect for real money gameplay.
Tens or Better
Tens or Better functions in the exact same way as the variant above, however in this case the lowest possible winning hand is a pair of tens. The 'Power' version of this game allows you to play five hands of poker simultaneously, costing more in wagers but allowing you to collect the prizes for every winning hand found.
Aces and Eights
The main change you'll experience when playing Aces and Eights is that the second-highest combination you can find after the Royal Flush is Four Aces or Four Eights. Hence the name. Following that hand is the Straight Flush, then Four Sevens, then Four of anything else. The lowest paying combination is a pair of Jacks.
Deuces Wild
All cards with a two on them are considered a Wild in this game, which means that it is much easier to find pairs and three-of-a-kind. Therefore, the lowest possible winning combination is three of a kind, and the twos also stand in as any number to create a winning hand. This game has an RTP of 99.38%, and the second-highest hand is four twos.
Aces and Faces
The paytable of the Aces and Faces video poker variant changes again, with this now paying out the second-highest prizes for four eights or four Aces. This doesn't change any other gameplay factors, and can be played in the same way with the same strategy as Aces and Eights. There is the option to double against the dealer should your hand win, or simply collect your winnings.
Joker Poker
In the Joker Poker variant of the game, the hand is dealt from a 53-card pack: the standard deck plus one Joker. The Joker is a Wild card and will substitute for any value card that would be necessary to create a winning hand. The Power version of this game is also available, giving you four hands-worth of opportunity to win.
Louisiana Double
Louisiana Double includes a 53rd card to the deck that is the Double card. This doesn't work as a Wild, but it will result in any winning combination paying out twice as much as listed, so if you have any combination of three or four cards that would pay out, plus a Double, you're in for a good time. However, this additional card brings the RTP down to 94%, meaning the game is more volatile due to the bigger, yet less frequent, payouts.
Poker Pursuit
This title from Microgaming allows you to raise or call after seeing three and four cards. Combined with the fact that tens or better records a win, this allows players to be aggressive in their betting, at times without much risk.
Deuces Wild Power
What's better than an ace? Well, in this game, a deuce is trumps: all twos are wilds. They can stand for their own suit and value or can represent any other card in the deck. These wilds make this a popular game among players, especially as four hands are dealt each round, allowing you to make lots of winning combinations.
Double Joker Power
As the name would suggest, there are two jokers added to the standard 52-card deck used. They act as wilds, standing in for any suit and value of card. As such, wins come quicker than in games without wilds. However, you cannot score a Royal Flush with a joker, instead you are rewarded for the less-valuable "joker flush".
How to Pick a Video Poker Game
Now that you have a better understand of the rules and how to play video poker, you can have the fun task of choosing the right game for you. To help in sorting through the different variants, I've highlighted four of my favourite options for particular types of gamers. If you're a beginner, looking for the best RTP or for something a little different, use the tables below to find the right game or check out more video poker demos.
For Beginners
For Fun
For Real Money
For Something Different
There are many more options than those above, but hopefully this gives you some ideas for the types of video poker game rules that are more appropriate for your level. Of course, there are other options that suit these categories too, so feel free to check out the reviews of the games and learn more.
Things to Consider When Picking a Game
When considering a game, there are different factors to consider based on what kind of experience you are looking for. The following sections will describe some of these factors and when or why you should pay attention to them. These are a good guiding hand, but you are always free to play a demo and see variants of video poker how it works for yourself.
The RTPs and House Edge of the Game
The return to player (RTP) rate of a casino game refers to the percentage of your wagers that you will win back over an extended period of time. This varies from one game to another as the video poker rules alter the statistics. This information will always be able to be found in a trustworthy game's Help factsheet, and is worth investigating as some RTPs can be as low as 92%, while others are over 99%.
Are the Game Rules too Complex for Me?
The video poker game rules can become increasingly complex as the software developers add more and more twists on the classic gameplay. If there are rules you don't understand or video poker terminology that is over your head, it may be time to switch to something simpler. Otherwise, try out the title in a free play demo before you waste cash trying to figure it out.
Are There Any Video Poker Strategies That I Can Use?
There are many video poker strategies that have been mathematically created to offer you the best probability for making the right moves. Each game has its own set of processes that you can follow to help you have the best chance of winning, and since you are playing online you can download the helpful guides and use them while you enjoy the game from wherever you are. Though these help you make statistically correct choices, they do not guarantee a winning hand.
Helpful Resources
The more help you can have in learning how to play video poker, the better. At least, that's what we think, which is why we've put together a selection of downloadable resources that you can use while you learn the video poker rules. You can continue to use them while you play for real money, too, and close that house edge as much as possible.
Downloadable Video Poker Winnings Hands PDF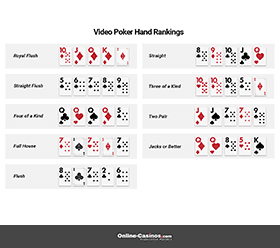 This helpful sheet of winning video poker hands will give you a reference for whether or not your hand is looking good. Keep in mind that variants often will have alternate orders for which hands are the best, but they will always slot in and around these types of winning hands.
Video Poker Rules Glossary
Every type of casino game has its own set of terminology and jargon that get thrown around, and having read the video poker rules you'll see that it's no different. I've collected a selection of words and phrases that are used in this game, so you have a solid foundational understanding. Once you know them, you will impress the people around with all the poker know-how!
Deal The action of the player's cards being given out.
Deuce Cards with a number two.
Double A gambling option to wager winnings before they are collected.
Draw The action of swapping cards that are not held, for randomly dealt new cards,

Full House A hand consisting of a Pair and Three of a Kind.

Royal Flush A hand consisting of an Ace, King, Queen, Jack and Ten of the same suit.
RTP Return to Player percentage, a rate of wagers that will be won.

Straight A hand consisting of five consecutive cards of mixed suits.
Straight Flush A hand consisting of five consecutive cards of the same suit.
A Note on the History of Video Poker
Online video poker as we know and love it today has its roots in the classic card game, of course, which dates back to the 19th century. It became popular in the United States before spreading across the world, though still in a far simplified version to that which we know in the casinos these days.
Thought the rules and gameplay became more complicated for casino poker, it came back to simplicity when the card game made its transition into the video poker machines that are found alongside slot machines in local casinos, and sometimes bars and pubs (depending on the local laws).
These became incredibly popular, and continued to be so as the games made their transition into online casinos in the early 2000s. At the time, the simple graphics and gameplay mechanics were well suited to the new technology. The games haven't evolved too much since then, though some developers are creating new and interesting variants, and we expect the popularity to continue to grow in parallel.
Video Poker News
The online casino industry is an ever-changing world with new games being released on a frequent basis, and interesting movements from the different developers. We cover all of these topics in our video poker news section, with the latest info available right here:
If you're a fan of video poker and want to stay up-to-date with the latest news about the game, you can check back with this page as often as you like. We cover the entire online gambling industry at large, providing a holistic view of the scene including not just this game, but slots and blackjack, as well as sports, society and new promotional deals. There's so much to learn in such a fast-paced industry, and we'll share it all with you here.
Frequently Asked Questions
As mentioned, there is so much to know about how to play video poker, the different gameplay mechanics and online casinos that offer the games. To provide simple clarity, the following section includes some of the most commonly asked questions, and their answers. I hope that I was able to satisfy your thirst for knowledge when it comes to poker and that you found this guide handy.
Which video poker game has the best odds?
The best odds for video poker are found when comparing the RTP of each title. Some of the leading games include Jacks or Better with over 99% RTP, though this is for the base game only. The Double feature does not have the same odds. You can choose the right poker version according your own taste.
How do you beat video poker?
It takes a combination of strategy and luck to win a game of video poker. The player should make mathematically-backed choices on which cards to hold, but even this will not guarantee a win as the cards are randomly drawn. As a starter, of course, you must learn how to play poker.
Is video poker a game of skill?
There is some skill involved in playign video poker, as the games give you the choice to have input as to which cards should stay in your hand, or be replaced. However, there is much more luck involved for the randomly-generated cards that are dealt to be winners.
How is video poker programmed?
Software developers like Microgaming program their video poker games using random number generators (RNG), which guarantee that the cards dealt are based on chance. This programming is tested and verified by third party companies like eCOGRA.
Your Opinion is Valued
Other Interesting Video Poker Topics