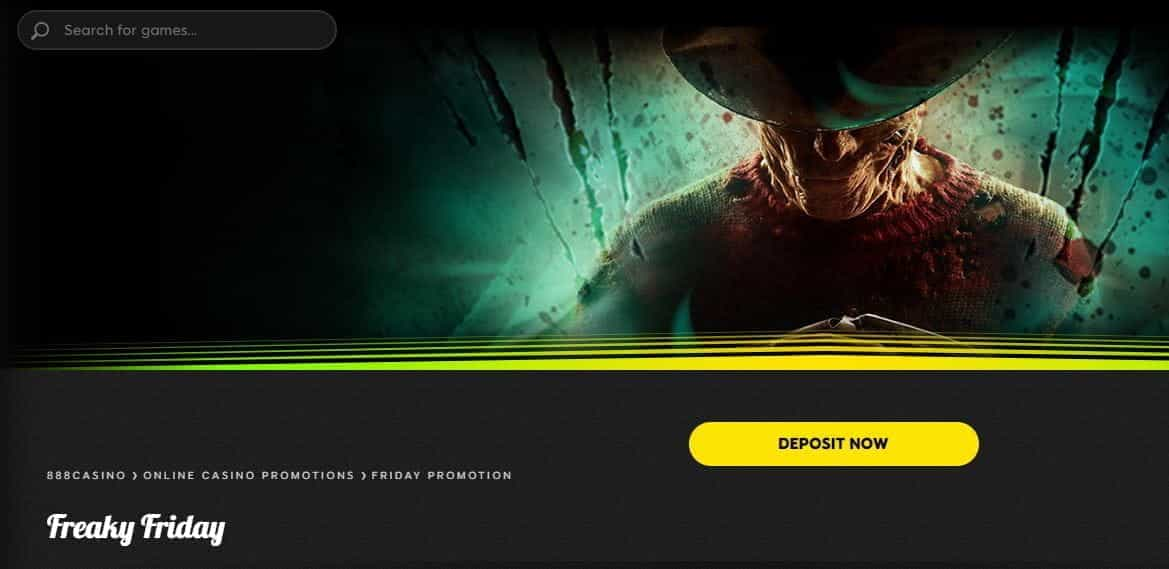 How to Guide: Getting the FreePlay Bonus
There's lots to unpack with this exciting promotion from 888casino. The first thing to say is that the advertising and horror references that abound in all of the bonus information are about as enticing as the actual deal itself, so props to the marketing team at the casino for that!
Leaving aside the theme of this particular 888casino promotion, the deal on offer gives you up to £60 FreePlay bonus money to play with. Of course, there are some terms and conditions involved, which we will get to in due course, but there's nothing too horrific.
Getting the 888casino Freaky Friday FreePlay is nice and easy. Firstly, you must already be a member of the casino. If you are not, don't worry, it's simple to become a member. Head over to our full 888casino review for full details. If you are already signed up, then all you need to do is follow these simple instructions to qualify for the bonus:
Step One: Log in to 888casino on the app or website.
Step Two: Deposit at least £20 by 11.59pm on a Friday.
Step Three: Before the end of the same Friday, wager 3x your deposit.
Step Four: You will receive the FreePlay amount in your account.
Step Five: Play on any of the four available games.
That's the basics of how you get your hands on the FreePlay bonus at the heart of the 888casino Freaky Friday deal. You can take advantage of this every single week if you want to. There are, however, a few more things that you need to be aware of so that you don't end up being disappointed. The first is that only certain slot games are valid for using your FreePlay bonus funds.
The games you can play with the 888casino Freaky Friday bonus are:
A Nightmare on Elm Street
Ultimate Universe
Treasure Fair
Steampunk Nation
While of course, it would be nice if all games were included in this promotion, it is pretty normal for such choices to be limited by an operator. What we can say is that all included games are of the highest quality and are popular among players. In the next section, we'll run you through all key terms and conditions.
Terms and Conditions That You Need to Know
First things first, in order to qualify for this promotion, you need to have previously made a deposit. Then, on your second (or any subsequent) deposit, you can enter the promo code and get the deal.
The 888casino Freaky Friday bonus code is: FreakyFri
Enter this code (with the exact spelling and formatting as above), when making your deposit in order to enter the promotion. Next, pay in at least £20. If you deposit £20-£49, you will get £8 FreePlay; between £50 and £119 will get you £25 FreePlay and more than £120 in one deposit will get you £60 FreePlay.
Before you can get the bonus funds, however, you need to wager your deposited amount 3x. This is pretty normal for casino promotions but is one of the only downsides to this deal. The bad news is that there are wagering conditions attached to the winnings that you make with the FreePlay as well.
You need to wager any winnings 30x before they will be transferred to your real money account. You have 90 days to do this from the time that you receive the winnings. Also, there are various different contribution rates for different games. They are as follows:
Slots: 100%
Scratch Cards: 100%
Keno: 100%
Dice Games: 100%
Roulette: 20%
Pai Gow Poker: 20%
Caribbean Poker: 20%
Blackjack: 10%
Live Games: 10%
Video Poker: 10%
Baccarat: 10%
Craps: 5%
It is worth bearing this in mind before you start, as the requirements are significantly different if you are planning to play blackjack or slot games. The other important thing that you should know is that you cannot wager on sports or online poker with the winnings from this promotion. Otherwise, you are good to go.
There's really nothing to be afraid of with this deal from 888casino. As usual with its promotions, the terms and fair and you can add a little boost to your playing, starting your weekend off right.– Fraser Wallace, Bonus Expert, Online-Casinos.com