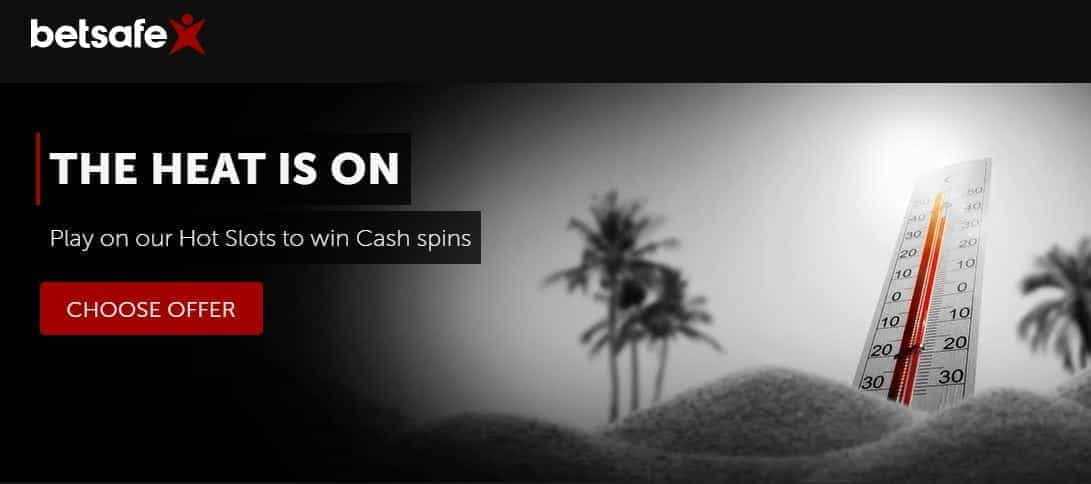 This promotion from Betsafe casino leaves the decisions in the player's hands. Will you choose the 30 cash spins on Twin Spin Deluxe or 15 Big Cash Spins on Twin Spin Deluxe? Find out what the differences are between these two options and which one is better for you, then find all the information on how to claim it here.
Choose from Two Options
This promotion is only available to players in England, Wales or Scotland who have a registered and verified account with Betsafe. That's probably the most important thing to understand before looking any further into this deal, but if that's you then there is great news: this deal is one of the simplest and clearest deals we've seen in a while. I'm really impressed with the low wagering conditions, which I'll get to a little later down the page.
Here's the basics of the two options. Option A: Deposit at least £10 and wager £50 on selected slots to get 30 Cash Spins on selected slot, or Option B: Deposit at least £50 and wager £250 on selected slots to get 15 Big Cash Spins on a selected slot. The slots will change every week, and which titles are included will be available on the promotions page. To claim a deal, follow these steps:
Step One: Log in to your registered and verified Betsafe account.
Step Two: Head to the promotions page and opt in to the chosen deal.
Step Three: Make your deposit, ensuring it is over the minimum for your chosen deal.
Step Four: Open the Red Hot Slot of the week in order to claim the cash spins.
Step Five: Enjoy your bonus.
There's a pretty big difference in the amount of money required for wagering between the two deals, and the one that requires a higher stake gives you fewer spins. So what's the difference between Cash Spins and Big Cash Spins? Well, the Cash Spins are only worth 10p and the Big Cash spins are worth £1 each. You need to use your cash spins within 72 hours of them being credited to your account, or else they will be forfeit.
No Wagering Conditions on Winnings
This is the best part of the whole deal, as far as I'm concerned. The winnings from the Cash Spins are yours to keep, completely free of any kind of wagering conditions. You can withdraw them as cash, whenever you like.
You can participate in this deal between 10.00 on Mondays and 23.59 on Thursdays until 26 September 2019. You will need to opt in to the desired deal again and make another deposit, essentially starting the whole deal again from scratch.
There are no wagering conditions on the winnings from the Cash Spins, which makes this a great deal from Betsafe. – Fraser Wallace, Bonus Expert Online-Casinos.com