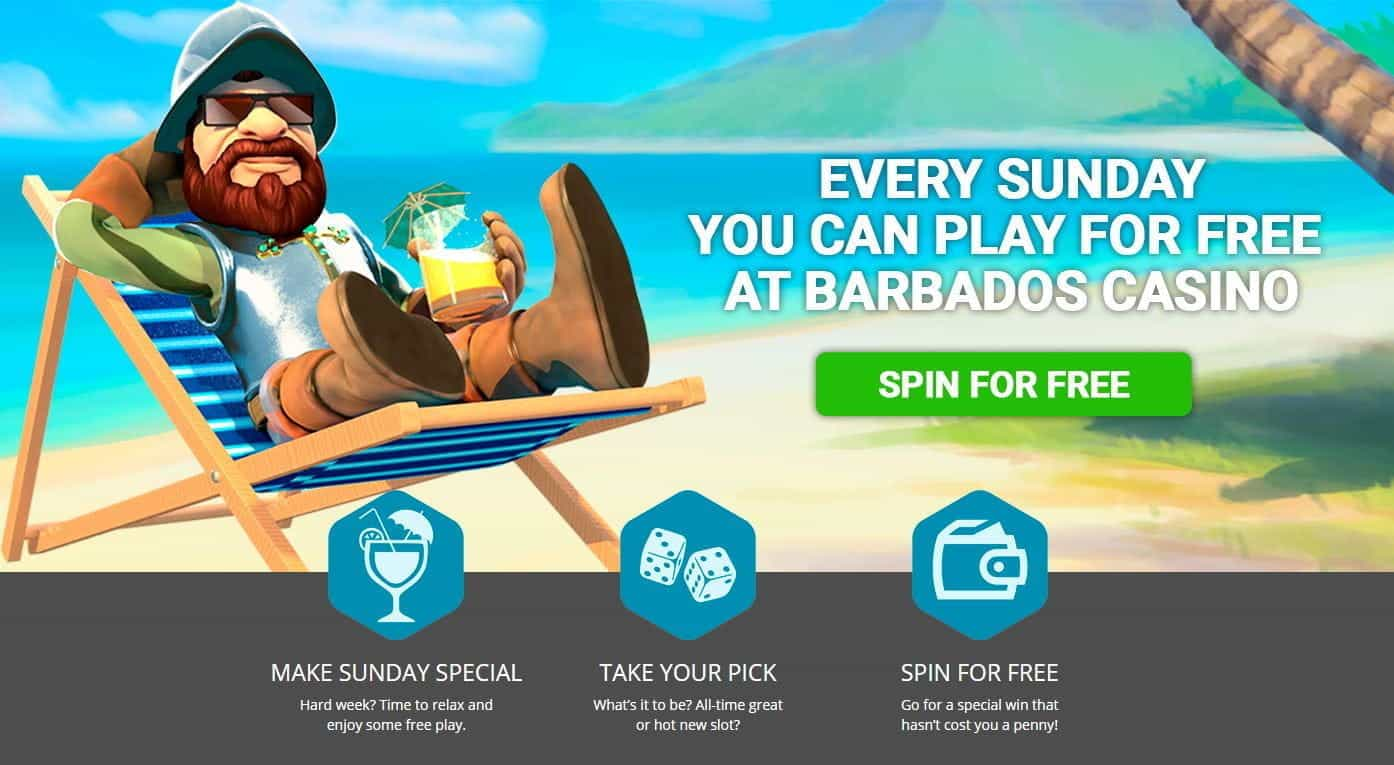 What's on Offer?
First things first, as with any bonus review that we do here: we'll have a look at what the casino operator is offering. Then we'll take you through the details to see how it compares to the best casino bonuses.
The headline offer is that "every Sunday you can play for free at Barbados Casino". Or put a little clearer, another quote from the operator is that "every Sunday you'll receive a bundle of Free Spins to use on any slot you like".
There are definitely some details needing to be added here, before we can give our opinion on this offer. For example, a quick look at the promo page on the operator's website will tell you that, while you can play any slot game with these spins, the weighting for wagering requirements contributions is certainly not even across all slots.
We'll get into the terms shortly. First, though, let's look at how many spins you can get if you make a qualifying deposit to the casino. Then we'll talk you through how to get the Barbados Casino Free Play on Sunday bonus spins.
The problem here is that we can't tell you how many bonus spins you will getas part of this promotion. The operator simply hasn't included this info in the terms and conditions.
There is no maximum or minimum number advertised, nor is a relation between the deposit amount and the number of spins indicated in the bonus terms. This is a huge downside to the promo, and one that we can't forgive easily.
The system appears to be that you will find out how many spins you get on Sunday, which doesn't allow you to plan for the bonus in advance.
How Do I Get the Bonus?
However tricky Barbados Casino makes it in figuring out how much you stand to gain in the Free Play on Sunday offer, it is very easy to get your hands on the bonus.
If you're already a member of the site, then all you need to do is follow the simple steps below. If you're not yet signed up to the site, then follow this link. Alternatively, head over to our Barbados Casino review to find out all about the operator.
How to get the Bardados Casino Free Play on Sunday bonus:
Step One: Log in to your Barbados Casino account.
Step Two: Head to the cashier.
Step Three: Make a deposit.
Step Four: Check back on Sunday to receive your spins.
It's as simple as that. The only things left to do are to play with your spins and then complete the wagering requirements. But we'll go into full details about that and the other terms and conditions in the next section.
What Terms Do I Need to Know?
Our first thought with such a question is always to remind you that, when it comes to casino bonuses, you really need to know all of the terms and conditions before you opt in or start to play. We know it sounds boring and lame of us, but honestly, it's true. It can save you a lot of heartbreak.
Let's start off with the basics here; you need to be 18 years old or older and you must be located in the UK in order to claim this bonus.
Next, the Sunday Free Play spins will only be awarded if you have made a deposit in the last 14 days. As we mentioned earlier in this review, we're not exactly sure whether there is a minimum deposit for this promo. Or, indeed, if a higher deposit will earn you more spins. If you are intent on knowing this, we suggest that you contact the casino before making a deposit.
You need to use all granted spins within 24 hours of receiving them. Any unused bonus spins will be removed from your account after this.
Any winnings from the spins are subject to 50x wagering conditions. You must complete these playthroughs before any winnings can be withdrawn.
Before you can make a withdrawal from the casino must first wager the amount that you deposit. If you do not do this, you will lose the bonus spins and any associated winnings.
It is important to note that not all slot games contribute 100% to the wagering requirements. You can see a full list of game weighting on the promotion page at Barbados Casino.
You also can't bet more than £4 in total or more than 50p per line per spin when completing playthroughs. If you do so, such bets will not count towards the wagering requirements, or will result in the bonus spins and associated winnings being removed from your account.
For full terms and conditions, check out the promotion page for the Barbados Casino Free Play on Sunday bonus.
If it were up to us, we'd have at least one casino promotion for each day of the week. This deal gives those who choose to play on Sunday an extra reason to choose slots. With the vast array of games that Barbados Casino has in its stock, there's lots of great choices. Just be careful of the contribution weighting for some games.– Courtney Graham, Bonus Expert, Online-Casinos.com