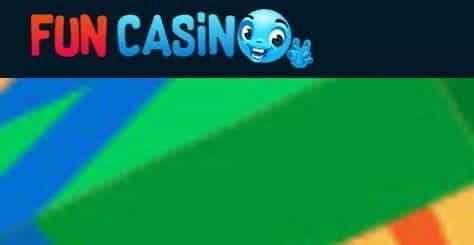 Get Part of Your Money Back Every Time at Fun Casino
The headline sounds pretty good: a cashback bonus means you can get back some of your losses when you play at Fun Casino. So far, so very good. It is always nice to get a welcome bonus or take advantage of a seasonal offer. But this deal from Fun Casino is not just another bonus.
Instead, it is a whole new section of the website, which has been added to every player's account. In the cashback section, you will be able to track cashback that you earn whenever you pay into the site, play the casino games and accumulate losses.
The thinking behind the deal is that everyone likes to win and no one likes to lose. We all would love the chance to recoup some of those losses, would we not? Well, Fun Casino allows you to do just that as a member.
You can get 10% of your losses back as part of this scheme. As you can imagine, over time, this could make a pretty significant difference to the overall turn out of your gambling sessions.
What is even better is that this scheme is permanent and unlimited. This is the line that really made us pay attention to the offer, as we had fully expected a daily or even monthly limit to be placed on the amount of cashback that a single player would be able to claim from the operator.
There is one more piece of great news to tell you before we have a look at how you get involved and what terms are attached. The cashback comes with no wagering requirements and is, instead, paid as cash. It is not restricted bonus funds that you must use in a certain way. Instead, bet with it as you wish or withdraw it straight away; the choice is yours.
How Do I Claim the Cashback?
When you log in to Fun Casino from now on, you will be able to find a new section, accessible from your account page. On this "Cashback" page, you will find details of how the scheme works as well as be able to track your own rewards.
On that page, you can click to "Activate cashback". That is all there is to it, really. But we will give you a simple step by step process to follow so that you cannot go wrong.
How to get the cashback:
Step One: Click to go to the Fun Casino online site.
Step Two: Log in to your player account.
Step Three: Make a deposit to the casino.
Step Four: If you lose that deposit, you will earn cashback.
Step Five: Click to activate your cashback and receive your funds.
The key thing here is that you only get cashback on lost deposits. This may sound obvious, but it does mean that you only get cashback when you lose overall. You do not earn cashback on individual lost bets. The system is giving you some money back when you lose the value of a deposit that you pay in to the site.
Before we have a look at the terms and conditions associated with this offer, we wanted to take a minute to look at the casino itself, in case some of you are unfamiliar with Fun Casino.
Why Should I Join the Casino?
Fun Casino aims to do exactly what it says on the tin. With a brightly colourful and engaging colour scheme and aesthetic, you can pretty much get what is going on with this operator within a few seconds of heading to the site.
The operator site houses over popular casino games, the majority of which are video slots, covering just about every possible theme that you could name. These products are supplied by the likes of Microgaming, IGT, Big Time Gaming, Scientific Games and Thunderkick, while the live casino suite is provided by Evolution Gaming.
As you can see from this list, the offering is serious, even if it comes in fun and silly packaging. The idea behind the site and its marketing is that gambling is meant to be fun, but this does not mean that the quality of the product is not important. You can expect top notch games and first rate security and customer service if you choose to join the site.
You can read more about the operator in our full Fun Casino guide, or if you want to learn more about specifics, check out our Fun Casino bonus review or our Fun lotto page.
What Are the Terms and Conditions
There are not too many terms and conditions to run through, but we do urge you to make sure that you have read them all before you sign up and opt in to this scheme. This is true for all online casino promotions and offers. It is always best to know the details before you start.
As with all online casinos in the UK, you must be at least 18 years old in order to be a member. You must also be located in the UK.
The cashback is permanent and unlimited, and you can receive 10% of your lost deposits in cashback at Fun Casino from now on.
The cashback scheme only refers to lost deposits, rather than to individual bets that you wager and lose at the operator site.
Deposits that are made in conjunction with bonuses and promotions are exempt from this cashback scheme.
Once you make your deposit, the cashback will only become available 24 hours after the payment is received by the casino. You may then claim any valid cashback funds.
You can click to "activate cashback" and receive your cash back only once the timer has run out.
The last thing to be aware of is that your total cashback will accumulate over time. But this means that your cashback will be reduced if you go on to win.
Other than that, as Fun Casino says on its explanation page, "there are no wagering requirements or any other annoying bonus terms you need to worry about".
If you are interested in joining Fun Casino to take advantage of the Get Part of Your Money Back Each Time deal, head over to funcasino.com
Here at Online-Casino.com, we spend a lot of time reviewing seasonal and changing online casino promotions. But this cashback scheme is something different. It gives members a chance to earn back potentially a lot of lost deposits. There are no limits and the cash back funds are paid in real money, with no wagering requirements attached. To us, that makes this a great reason to consider playing at Fun Casino.– Courtney Graham, Bonus Expert, Online-Casinos.com