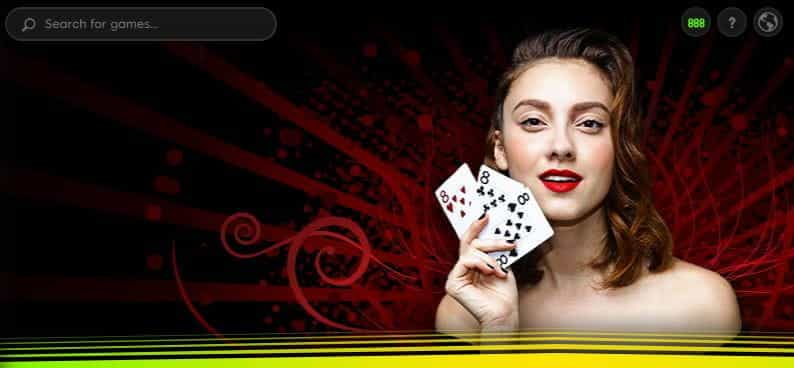 The Lowdown on 888casino's Live Casino 888xtra Bonus
Every single day of the week, players at 888casino can get the chance to win a share of £750 when playing live blackjack at the casino site.
This deal couldn't be much simpler, but it is just as exciting a prospect as many of the more involved promotions on the market right now. The other great thing about it is that it is not tied to any deposits, meaning that you don't have to pay into the site just to get the bonus.
Instead, when you play at 888xtra live blackjack tables, you have the chance to win some bonus cash. If you are dealt one of the 12 bonus cards that are dealt into the decks at each of the participating tables, you win the prize on that card.
The cards are as follows:
£100 x 3
£75 x 3
£50 x 3
£25 x 3
You can access the 888xtra live blackjack tables between 1pm and 1am (GMT) every day. And don't worry, you can't get caught out playing at the wrong times as the tables are simply closed outside of these times.
If you're not yet a member of 888casino, then don't worry, it's easy to sign up and to get started as a player at the site. You can expect to find one of the top live suites around, supplied by market-leading Evolution Gaming. The site is also home to hundreds of other top games. Find out more about the operator in our 888casino review.
How Do I Get the Bonus?
As you'd probably guess from what we've said so far, it's very easy to get involved with this promotion and to give yourself a chance to win some bonus funds. Just follow these simple steps and you will be in with a shot at the 888xtra live blackjack tables.
How to get the 888xtra Live Casino Bonus:
Step One: Sign in to your 888casino player account.
Step Two: Go to the live casino (via the tab on the left).
Step Three: Select the 888xtra live blackjack table.
Step Four: Play hands of live dealer blackjack.
Step Five: If you are dealt a bonus card, you win.
We know that it doesn't sounds very tricky. And that's for the very simple reason that it's not. All you have to do to win in this live casino offer from 888casino is to play at the 888xtra live blackjack table and have your fingers crossed that you are dealt one of the bonus cards. There's nothing else to it.
The Terms and Conditions in Full
No matter how straightforward and simple an offer is, there are always terms and conditions that you need to be aware of before you get started. This promotion is no different. So, let's have a look at the most important points so that you stay on the right side of the small print.
As with all UK online casino bonuses, you must be at least 18 years old to participate. British law is very strict on underage gambling, and the operator works hard to maintain legal standards.
In order to take part in this promotion and to have the chance to win, you must play in the 888Xtra table in the 888casino live casino, between 1pm and 1am (GMT).
When you are notified that you have won a bonus, you have seven days to claim the bonus. Once you have done so, you have 90 days to complete the wagering requirements. After this period, all remaining bonus funds and associated winnings will be forfeit and removed from your account.
The bonus cards will only appear in the 888Xtra Live Casino Blackjack table and not any other blackjack or live casino table or game.
The maximum number of bonus cards that a player can receive is five per month. If you are dealt more than this, you will not get the additional bonuses credited to your account.
The maximum win generated through bonuses is £500, with the exception of jackpot wins.
You cannot use bonuses from this promotion for sports bets, which is the case for all casino deals at the 888casino online site.
You must wager bonus funds from this promo 30x, before which the bonus and associated winnings are not withdrawable and are subject to wagering rules.
Wagering on all games at 888casino will contribute to the playthrough requirements, but not all contribute at the same rate.
The wagering contributions for the different games at 888casino are as follows:
Video slots, classic slots, slot games, scratch cards, keno, race, arcade, dice – 100%
Roulette, Pai Gow Poker, Caribbean Poker, Triple Card Poker, Poker – 20%
Blackjack, live casino games, Hi-Lo, video poker, Power Video Poker, baccarat – 10%
Craps – 5%
This is an exciting offer for two reasons: firstly, it is one of the few deals on the market that is specifically aimed at live casinos; and second, it's a generous offer in itself, giving live casino fans a real treat.– Fraser Wallace, Bonus Expert, Online-Casinos.com