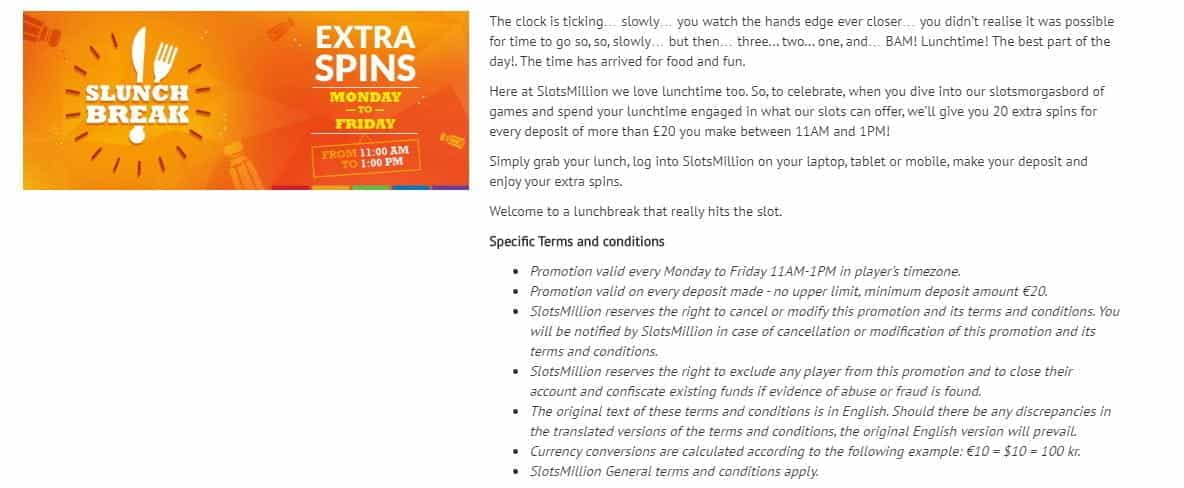 How Do I Get My Hands on the Bonus?
The idea behind this deal is to help players make the most of their lunchbreaks. Now, we're not advocating that you ever gamble while you're meant to be working…. or at least our boss isn't advocating that… but we can massively see the appeal of spicing things up over lunch.
Slots Million is offering a way to do just that, without even adding any chilies to your meal. Aimed at what the operator calls "the best part of the day", the Slunchbreak offer is just one of the many deals from this particular site that is worthy of your attention. Check out our detailed Slots Million review for full details on the operator.
With Slots Million's Slunchbreak bonus, you can get 20 extra spins for every deposit that you make between 11am and 1pm on a weekday. These deposits just need to be £20 or over. There isn't even a bonus code that you need to use in order to access the promotion.
Follow these simple steps to get the deal:
Step One: Head to the Slots Million site and log in.
Step Two: Pay in at least £20 between 11am and 1pm.
Step Three: Receive your extra spins
Step Four: Use these spins on any of the valid games.
Step Five: Wager your winnings 35x to convert them to real cash.
As you can tell already, the beauty of this deal lies in its simplicity. There aren't any tricky quirks or complicating processes that you need to navigate in order to get the extra spins. In addition, there isn't a maximum number of extra spins that you can receive. If you want to make several qualifying deposits per day, then you will get that number of sets of spins.
As always, there are some terms and conditions that you should familiarise yourself with before embarking on this lunchtime break. So, let's run through everything that you might need to know about this particular bonus.
All Important Terms and Conditions
As soon as people see the words terms and conditions, they either switch off mentally or jump to the assumption that there is going to be a massive catch. With this promotion, there aren't any nasty surprises, but it is really important that you understand the rules so that you don't end up disappointed or stressed.
Firstly, Slots Million has set this bonus up as an ongoing deal. However, this doesn't mean that it will run forever. The casino has reserved the right to discontinue it at any time. So, if it's something that appeals to you, it's worth knowing that it might change or be removed.
As mentioned above, in order to qualify for the bonus, you need to make sure that individual deposits are at least £20. Any deposits of less than this will not qualify. However, there is no maximum qualifying bet amount. If you deposit £40, you will still only receive 20 spins, so make sure to split up the amount into two payments.
Any winnings that you record while using these free spins will not be paid to you in real cash. Instead, they will become bonus funds. These have wagering conditions attached to them. In order to convert bonus funds into real cash, you need to wager them 35x.
There is a long list of slot games that cannot be played on with bonus funds. It is also worth knowing that you cannot play casino games using bonus funds. This includes all table and card games.
Enjoy your Slunchbreak bonus at Slots Million and good luck with your free spins. Just don't forget to eat some lunch as well!
Everyone likes a little treat at lunchtime. Slots Million knows this and has created this deal, which allows you to get 20 extra spins for each £20 deposit you make. The fact that this is available each weekday makes this a great addition to the casino's bonus menu.– Fraser Wallace, Bonus Expert, Online-Casinos.com