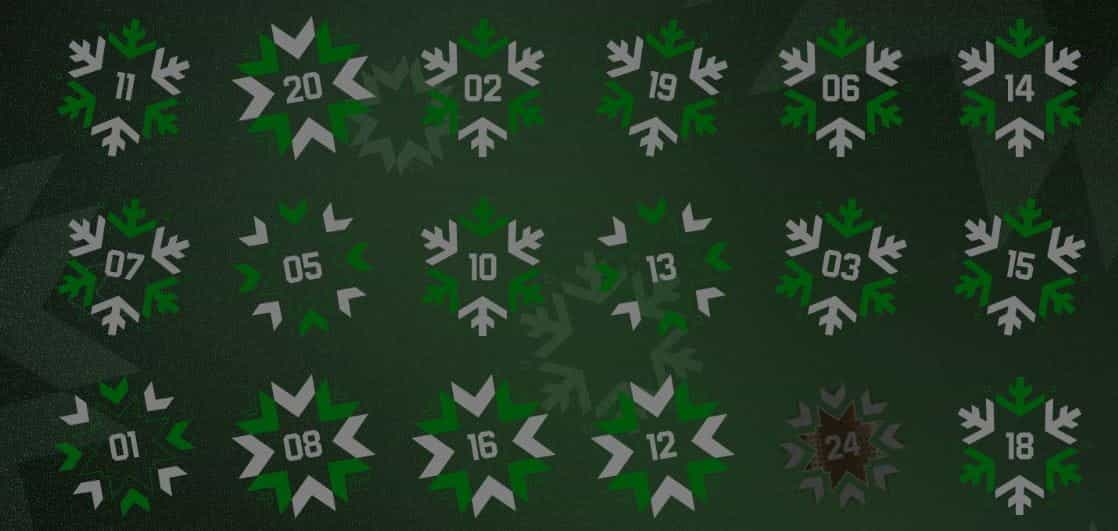 Introducing the Unibet Advent Calendar 2020
It's that special time of year again, when presents are given and joy is shared. It's also the time of year when certain gambling operators choose to deck their halls with daily prizes and special bonus offers. Today, we have a look at the Unibet Advent Calendar 2020.
As with every year's edition, the site isn't giving too much away ahead of time. But we are able to bring you some sneak peaks of what you could stand to get if you choose to sign up and opt in for this series of promotions.
With promo titles such as "Evening Poker", "Double Freeroll" and "A Bag Full of Free Bets", it's pretty clear that the operator is offering a wide and mixed array of offers. We love when this is the case, as it means that there will be something there for just about every type of gambler.
How Do I Get the Bonuses?
We would usually, in this point of our new offers bonus review explain, in clear steps, how you opt in to the bonus offer. However, since there are lots of different bonuses, each with their own rules, things are a little different here.
That is not to say that process is not easy. In fact, Unibet keeps everything very clear and hasn't overcomplicated anything. We just want you to be aware that there are some differences between the different items in the Unibet Advent Calendar.
For example, the minimum deposit or bet may vary between promotions. Therefore, we cannot give you complete instructions, and must urge you to carefully read the steps on the operator's website. However, we have laid out the general process below to help you out.
How to get the Unibet Advent Calendar bonuses:
Step One: Go to Unibet.
Step Two: Sign up as a new user or sign in to your account.
Step Three: Go to the Special Offers Page.
Step Four: Click on the Advent Calendar.
Step Five: Click on the box corresponding to the date.
Step Six: Accept the Offer.
As always, we recommend that you read the terms and conditions of each of the bonus offers before you choose to accept them. The various promos have unique T&Cs attached to them, so you should know what you are accepting.
Also, each bonus has specific rules for qualifying and for wagering. It is essential to understand the setup and conditions before you start so that you can make the most of your Unibet Advent Calendar 2020.
Make sure that you follow the step-by-step instructions given for each day's promotion. They are listed on the info page, under "How to claim the bonus". If you have any problems, then we urge you to get in touch with the customer services team.
About Unibet in More Detail
Many of you will already be familiar with Unibet, as it is one of the most loved and best-known gambling operators on the market. It offers a top-quality online casino, poker site and a full sports book.
As such, you may come to the brand from a number of different gambling backgrounds, with different tastes or wishes. This has been reflected in the diverse nature of the promotions being offered as part of the 2020 Unibet Advent Calendar. There are slots, table games, poker and sports focused bonuses to be claimed.
The casino is famed for having a superb, large and varied selection of the latest and greatest slot games, numerous popular RNG table games as well as a fully stocked live casino lounge, provided by Evolution Gaming. If you would like to read more about the casino site, then click to read our full Unibet online casino review.
Terms and Conditions
As mentioned before, we are not able to give you a complete rundown of all of the details for each and every one of the daily prizes, promotions and bonuses that make up the Unibet 2020 Advent Calendar. This is purely because of the setup of the offering.
However, we do want to make sure that all of our readers are well informed. So we have collected some of the general terms and conditions that will apply to all or most of the bonuses, so that you can have a decent understanding of what will be involved, and which conditions the deals are subject to.
First off, all Unibet promotions – in fact, all UK casino promos – are only for players who are over 18 years of age. You must also be located in the UK in order to take on any of these offers.
By entering any of the bonuses, you are of course entering into an agreement with the casino operator. As such, you are agreeing to all of the binding conditions that are laid out in the terms and conditions or that offer and of the use of the site in general. This is why we strongly urge you to read and make sure that you understand the small print before you start.
Each promotion is only available once to a single player. As is standard in the industry, this actually means that you can only have one of each bonuses per household or IP address.
Each of the Unibet Advent Calendar 2020 deals is only available on the designated day. Once the day is over, the deal expires and the next offer is available, until the end of the promotional period.
Another standard term that you will see in the small print here is that no employee of Unibet is allowed to enter. This restriction extends to any employees of affiliated companies, and any family members of employees of Unibet or affiliated companies.
If you would like to see other great bonus offers, then we would suggest that you have a look at our rundown of the best casino bonuses.
We love a good bonus from a top brand. So, we really love 24 different quality bonuses from one of the best online casinos and sports books on the market. A really exciting festive selections box from Unibet this year.– Fraser Wallace, Bonus Expert, Online-Casinos.com