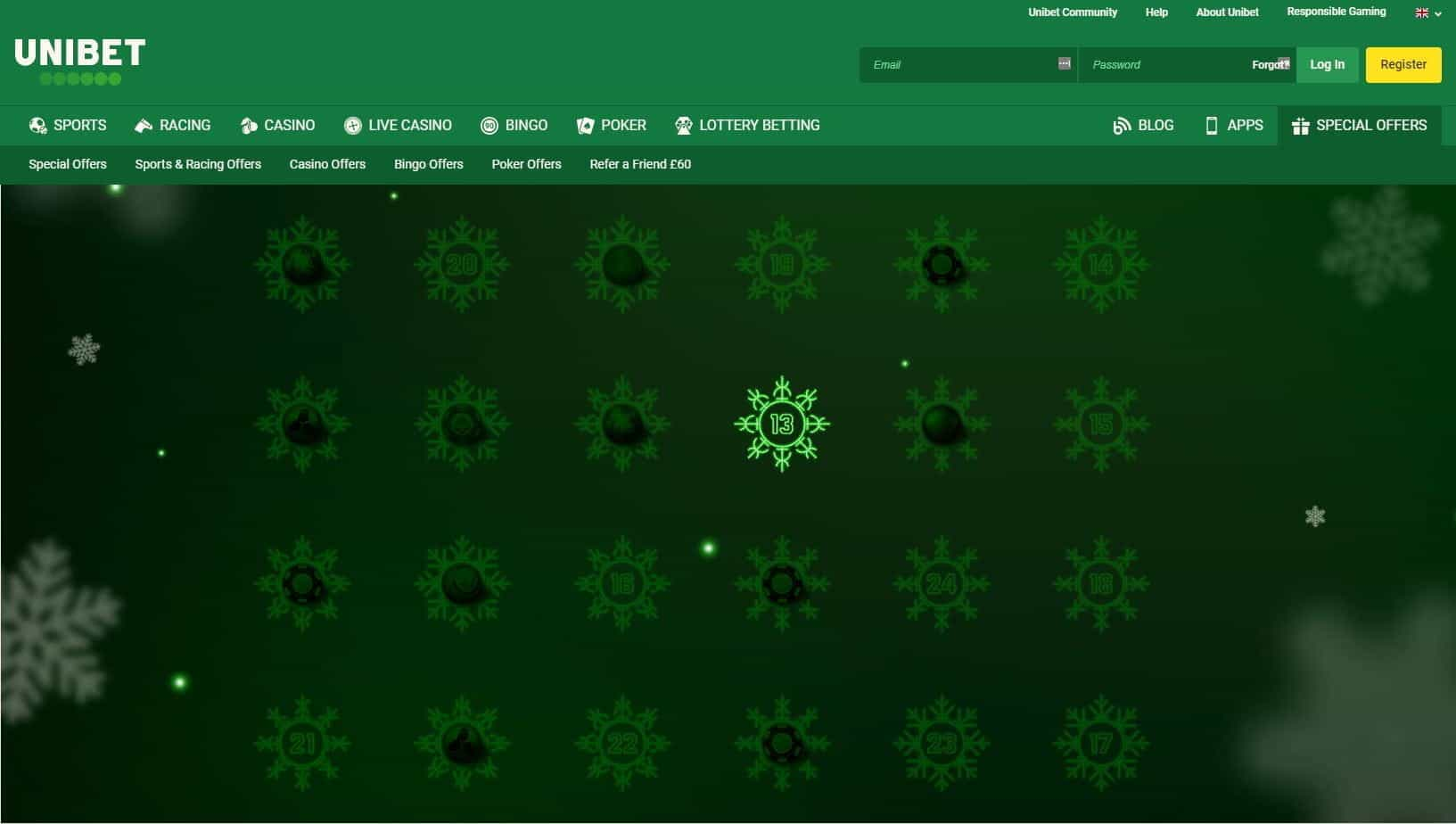 What Are The Promotion Details?
Unibet is getting into the Christmas spirit with its holiday-themed promotion, the Advent Calendar. Modeled off the advent calendars that are commonly filled with small chocolate treats, this online gambling version is instead packed with sports, casino, lottery and bingo bonuses.
Every day during December, Unibet has a new bonus up for grabs as part of its Advent Calendar promotion. The deals change daily, and can be across the gambling institution's many options. For example, it could include anything from free spins to cashback on sports bets.
How to Claim the Advent Bonus Deals
The Unibet Advent Calendar promotion is only available to players who already have registered accounts with the operator. You can only have one bonus active at a time so if you have claimed any other welcome bonus or have active promotions then you won't be able to claim any of the daily deals.
If you do try to claim a second bonus while you have one already active, the operator will cancel the first deal, which includes removing all claimed funds and winnings from your player account. The status of each deal you have active is visible in your player account, so check carefully before claiming a deal. Once you have checked, follow these steps to claim an Advent Calendar bonus.
Step One: Log in to your Unibet account.
Step Two: Click the small gift box that says Special Offers.
Step Three: Click the Christmas Advent promotion.
Step Four: Read through the terms and conditions.
Step Five: Accept the bonus and take the correct actions.
If you aren't already a member of Unibet, you can sign up for an account in a matter of moments. Simply visit the site, and share your personal information to create a login. The important thing to keep in mind with that is that if you do not claim the welcome bonus as your first bonus, you won't be able to claim it later.
The Terms and Conditions Are Daily
This promotion is something of a tricky one to describe, as each day there is a new deal with a new set of terms and conditions to follow. This is very much a situation of checking the daily terms before claiming any of the daily deals.
There are promotional details that are applied to every deal in the promotion, so that's what we'll focus on for this piece, although we highly recommend that players always read all of the exact details for each day's bonus to make sure that you don't end up spending more than you expect.
The Unibet Advent Calendar is a fantastic promotion to help existing players get into the holiday spirit. – Fraser Wallace