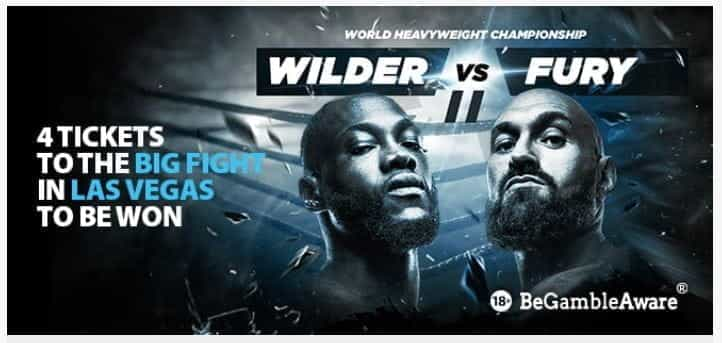 How Do I Enter the Draw?
First things first, let's be clear about what's on offer. Two members of the online casino will be able to win a pair of tickets to the fight between Deontay Wilder and Tyson Fury on the 22nd February 2020 in Las Vegas.
The fight is hotly awaited as it comes just over a year on from their first meet, which ended in a fiercely controversial split draw. Who wouldn't want to be there to see them fight it out again?
With the tickets to the actual event, the winners of this prize competition will get return flights to Las Vegas, four nights at the 5-star MGM Grand Hotel and private hotel transfers. So, let's have a look at how to enter the competition and potentially grab yourself tickets to an amazing experience.
To enter the BGO Wilder vs Fury II promotion, you need to:
Step One: Sign up to the BGO online casino.
Step Two: Opt in to the promotion.
Step Three: Wager funds on the site in order to gain points.
Step Four: Finish first in a daily tournament to enter the Main Event.
Step Five: If you win the main event or come second, you win the tickets!
That might not sound as simple as some of the other promotions that we cover on this domain. But trust us when we say that there isn't really anything more to it than that.
Basically, you earn a point for every £25 that you bet on the site. Each day, there is a daily tournament, which ends at midnight. The winner of each daily tournament will be entered into the Main Event.
The two top scorers in the Main Event will each be the lucky winners of the tickets and accompanying prize package. Read on for some terms and conditions.
The Associated Terms and Conditions
You have to be a member of the BGO online casino in order to take part in this promotion, though it is open to new and existing UK members. You also have to be 18 years of age or older, as with any gambling promotion.
You have to opt-in to the promotion. Any wagers made during the promotional period but before you have opted in will not count towards the daily or final leaderboard, and you will receive no promotion points for them.
The promotion will run until Friday 7th February 2020 at 23.59 GMT. As mentioned before, this promotion consists of a series of daily leaderboards and a final Tournament. There will be a total of 30 leaderboards. Each will run from midnight GMT until 23.59 that day.
Bingo wagers are not included in the promotion and will not count towards the accrual of any points. Also, points do not carry forward from one day to the next. Neither do wagers.
Bonus wagers are also excluded from this offer. Only real money wagers will count. There is, however, no limit to the number of points that a player can amass, either daily or weekly. The daily leaderboards will be updated every two hours, but the operator does not guarantee that they will be up to date at all times.
For all the boxing fans out there, this is a chance to combine a love of casino games with some excitement from the ring. For anyone who loves to play a lot and who dreams of going to Vegas to see a big fight, this is surely a dream come true.– Courtney Graham, Bonus Expert, Online-Casinos.com