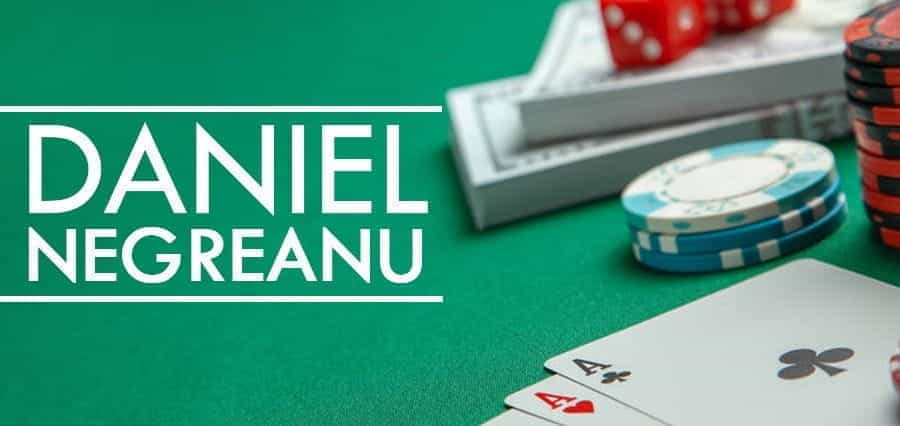 Inauspicious Beginnings
He may have won the World Series of Poker in 1998 at the tender age of 24, earning the nickname 'Kid Poker' as he did so, but it wasn't all plain sailing for Daniel Negreanu. When he was just starting out, the precocious prodigy blew his entire life savings in Las Vegas. It seemed to make a mockery of the starry-eyed statements he had made as a four-year-old to his mother that he was going to be rich, "build a house out of Popsicle sticks and move to California."
Luckily, Negreanu was made of stern stuff and didn't let his initial losing streak deter him. The tenacious Toronto-born gambler had displayed a knack for math and statistics while in high school, and his dream of becoming a pro player was not one he was going to give up without a fight. After all, those who seek to make a living from poker must be prepared to face lean times at some point in their career. It just so happened that, for Negreanu, the lean time came right at the beginning.
After this unsuccessful opening gambit, he returned to Toronto to lick his wounds, build up a new bankroll, and hone his skills for another attempt at a breakthrough into the big time. Almost three years later, the hard work paid off as he became the youngest ever winner of the World Series of Poker.
Net Worth Now
Technically speaking, nobody knows precisely how much money Daniel Negreanu has acquired. Mainly because it is private information, and as such anybody who claims that they know the exact amount Negreanu possesses is probably being dishonest. However, there are those who have attempted to make an approximate guess based on his gambling winnings, and although it is an inexact science it is nonetheless informative. Some estimates have him at a stratospheric $50 million, while others more conservatively place his wealth at a comparatively modest $10 million. Who to believe? Well, odds are that the truth is somewhere in the middle.
Should you decide to focus entirely on the difference between Negreanu's wins and losses, the net figure you would arrive at would be roughly $12 million – give or take a mill here or there. There is an issue with this calculation though, namely that there are many other sources of potential income to consider. The Canadian is such a hugely popular face on the poker circuit that he earns a substantial sum from sponsorship and TV appearances. Meanwhile, he is also a quite prolific writer and has apparently invested an undisclosed amount in the stock market. So his net worth may not quite be the $50 million that a few believe it to be, but at the rate he's going, it can't be too far off base.
Given that this is a guy who was brought up the youngest child in a Romanian immigrant family, his achievements are not to be sniffed at. While there are plenty of players who are more effective at the poker table, and others who are more adroit with their sports betting or investments, Negreanu has a unique personality that sets him apart. He does not quite make the list of richest gamblers around, but then the competition is tight at the top. What he does have is a lifestyle and outlook with the potential to leave a legacy unparalleled by those possessing fatter bank balances.
Romantic Entanglements
If he embarked on the road of professional gambling at a remarkably young age, his entry into the dating scene began even earlier. Oddly enough, it was also tied to his eventual vocation; as a 16-year-old, Negreanu started seeing fellow Torontonian Evelyn Ng. Name sound familiar? If so, it's probably because she is currently one of the most well-known Canadian poker players, and that is in no small part thanks to the influence of Negreanu. Despite splitting up, they remained firm friends and Ng would go on to take second place at the 2003 World Poker Tour.
Since exploding onto the big leagues as 'Kid Poker', all Negreanu's love interests have been under the spotlight. He was briefly married to Lori Lin Weber of Michigan between 2005 and 2007, divorcing due to his hectic schedule, before becoming involved in a string of quickfire relationships with beautiful women.
First up was Shannon Elizabeth, she of American Pie fame, followed by PokerStars hostess Amanda Leatherman. After Leatherman broke his heart, Negreanu turned to the not-inconsiderable charms of Krisztina Polgar a.k.a. Miss Earth Hungary. Alas, this dalliance also did not last, so in 2013 he appeared on the sixth season of Millionaire Matchmaker, hoping to find a partner with the personality of Anna Faris. As the star of Scary Movie was not one of the potential matches available, he instead hooked up with another blonde beauty called Lindsay Blalock. As might be expected for a relationship where the initial dates are televised nationally, this romance also fizzled out quite quickly. Then, in 2014, Negreanu met hairstylist Marissa Rachelle Rodney at a charity event, and while they seemed to hit it off at the time things went remarkably quiet for a long time after.
Had they broken up? Was Negreanu single once again? Or had he found yet another gorgeous girl with whom to have a fling?
Well, no. In fact, at the beginning of 2019, Negreanu announced that he and his old flame Amanda Leatherman had gotten engaged. Ah, lovebirds.
Writing, Streaming and Acting
Daniel Negreanu has more strings to his bow than his lucrative day job and dating lots of lovely ladies. Even if you aren't a fan of poker or a reader of the gossip columns, odds are that you've seen his face somewhere. As a child, Negreanu dreamed of being an actor, and his status as a sought-after celebrity made this dream come true; in 2008, he had a cameo in X-Men Origins: Wolverine where he, appropriately enough, portrayed a poker player.
On the small screen, he has made frequent appearances on various gambling TV shows while also trying his hand at various roles on reality shows; as well as the aforementioned stint on Millionaire Matchmaker, Negreanu was a mentor on Rob and Amber: Against the Odds. He was even the subject of a Netflix documentary in 2015, entitled 'Kid Poker'. Naturally.
In the space of just two years, Negreanu had three books published on the art of poker. Between 2007 and 2008, he wrote Hold'em Wisdom for all Players, Power Hold'em Strategy and More Hold'em Wisdom for all Players. These publications were an attempt to cash in on the evident appetite for gambling literature revealed when Edward Thorp's Beat the Dealer became a bestseller, and poker players responded positively to them.
Negreanu maintains a strong following on social media through Instagram, Facebook and Twitter, while his official YouTube channel boasts over 290,000 subscribers.
Lifestyle, Hobbies and Social Activism
From his passionate charity work to his outspoken veganism, it is clear that Daniel Negreanu is a deeply principled human being. Having said that, the vocal nature of his stances has rubbed some people up the wrong way, coming across as condescending and preachy rather than persuasive or humane. Nonetheless, he seems a genuinely nice guy with his heart in the right place.
Back in 2000, Negreanu stopped eating meat, and six years later he became completely vegan. He is of the view that doing good things ought to give you a warm feeling, which he terms as the fuzzies. To that end, he has become part of numerous organizations dedicated to helping others, such as Ante Up for Africa, and even runs a charity golf event – appropriately enough, given that he is an avid follower of the sport.
Considering the burgeoning popularity of eSports, it comes as no surprise to find out that Negreanu is involved there too. His particular game of choice is Hearthstone, and it appears that his gambling skills have transferred seamlessly as he has achieved Legendary status already. If he is not making money playing the fantasy deck-builder, we will collectively consume our own headwear.
Among this poker player's other passions are pool and tennis. Apparently, Negreanu seriously considered a career in the professional pool before setting his sights on tables of an altogether different variety.
Honors
Daniel Negreanu has won more titles than it is possible to list here and has appeared at more tournaments than you have had hot meals. That being said, we will only go through his biggest victories at the World Series of Poker and World Poker Tour:
2014 WSOP – The Big One For One (2nd Place) $8,288,001
2004 WPT – $15,000 Five Diamond World Poker Classic $1,795,218
2004 WPT – $10,000 Borgata Poker Open $1,117,400
2013 WPT – €25,600 High Roller No Limit Hold'em €725,000 ($811,347)
2013 WSOP – A$10,000 No Limit Hold'em Main Event A $1,038,825 ($726,486)
2008 WSOP – $2,000 Limit Hold'em $204,874
1998 WSOP – $2,000 Pot Limit Hold'em $169,460
Most likely, you can't hope yourself to ever achieve the same kind of success. However, you can at least achieve the same kind of fun, if you, for instance, choose to play poker online. Preferably at one of the top online poker sites available. Good luck.