SuperLenny Casino

50+ Live Tables
Top Quality Providers
Great Variety
No Deposit Fees
The SuperLenny Live Casino Up Close
Online casinos have a lot of advantages over the traditional brick-and-mortar versions. The return to player rates are often better, there are a lot of ways to make transactions, and of course, there's the convenience of playing at home where trousers are optional. One benefit of a land-based casino, as opposed to its online counterparts, is the atmosphere. However, the SuperLenny live casino selection is making a solid attempt to bridge that gap. In the following review, I'll explain how, so read on if you like being informed.
SuperLenny Live Dealer Suite Highlights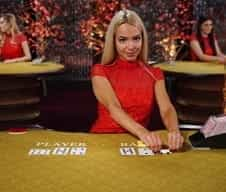 50 Different Tableswith lots of game varieties
Professional Dealersspeaking excellent English
High Definition Streamssharp quality video and audio
Leading Software Developersexpanding the games library
There are a lot of different aspects to building a high quality live games portfolio, so I've broken my review up into smaller parts to clearly define all of the important features, including an overview of the games selection, the table limits, software used and dealers that all make up part of the SuperLenny casino live package.
The SuperLenny Live Games Portfolio
There are more than 50 different tables to join in the SuperLenny live collection, which is a lot more than with much of its competition. There are lobbies powered by leading live gaming developers NetEnt and Evolution Gaming, so the selection is varied both in the types of games, as well as the studios they're filmed in and therefore the interior designs of the live dealers' locations. This is a great way to add a bit of a different look and feel to the different games and it is implemented with aplomb.
Highlights of the Games Library
Once you enter the world of the SuperLenny casino live games, you find a grid of windows displayed on your computer (or phone/tablet), each with a smartly-dressed croupier ready and waiting to welcome you to their table. There are plenty of different tables for the standard favourites including blackjack and roulette, so you can afford to be picky and find the SuperLenny live dealer and studio you like the best. There are a couple of different options here too, as the casino has also included less common games such as Dragon Tiger and Dream Catcher alongside the classics. Going above and beyond, though, the casino also has its very own branded roulette game in the operator's yellow colouring, which gives you the feeling that you're in trustworthy hands.
1/4Dream CatcherAs part of the SuperLenny live casino games library, you can join the crowd for spins of the Dream Catcher wheel, an award-wining chance game from software developer, Evolution Gaming.

2/4Lightning RouletteLightning Roulette is an electrifying take on the classic roulette game that adds a spark to the SuperLenny live games portfolio. Plus lots of jackpots to be won!

3/4Play Four Games SimultaneouslyCan't pick a single game from the stacked library? You can choose up to four games to play side by side – including both live and non-live games with the SuperLenny grid view.

4/4BaccaratOne of the standard inclusions to any worthwhile live casino games collection, baccarat is hosted with pizazz by a selection of professional dealers from Evolution and NetEnt.
The roulette balls race around the wheel, the bright lights of the slot machines jangle with every payout, and you hear the triumphant cry of "21!" from a nearby blackjack table, causing a raucous cheer. This is the atmosphere of being in a live casino – you're surrounded by many different games all at once, each plying for your attention. This is a difficult thing to replicate online when the reality is that you're home alone, but SuperLenny has given it a red hot go with its optional grid layout. By clicking the small two-by-two or four-by-four squares in the bottom right-hand corner of the gameplay window, you can simultaneously play up to four different live games, or non-live games for that matter, all on the one screen. Pretty nifty!
What are the Table Limits for Live Games?
The table limits for live games usually have a bit of a wider spread than the non-live games options, which you can see in my full casino review. I was a little underwhelmed by the maximum betting limits from the SuperLenny casino live games, which top out at only £10,000 (only!) for roulette and £5,000 for blackjack. The low stakes aren't necessarily the focus either, with minimum bets for blackjack still costing you at least £1 per hand. There are a couple of loose-change friendly roulette tables that go as low as 10p per spin, but they're generally over the £1 mark, too.
Examples of Table Limits at SuperLenny Casino
Roulette Games
Roulette Table Limits
Even Money Bets
Mobile Available
Lightning Roulette
1
50p – £10,000
50p – £10,000
SuperLenny Roulette
1
£1 – £4,500
£1 – £4,500
Goal Smash Roulette
1
50p – £100
50p – £450
American Roulette
1
20p – £4,000
20p – £4,000
Auto Roulette
2
10p – £5,000
10p – £5,000
Auto Roulette la Partage
1
20p – £2,000
20p – £2,000
Auto Roulette VIP
1
20p – £4,000
20p – £4,000
Dragonara Roulette
1
£1 – £4,000
£1 – £4,000
French Roulette
2
£2 – £5,000
£2 – £5,000
Immersive Roulette
1
£1 – £4,000
£1 – £4,000
London Roulette
1
£1 – £2,000
£1 – £2,000
VIP Roulette
1
£2 – £4,000
£2 – £4,000
Double Ball Roulette
25p – £800
25p – £800
Live Roulette HD
1
£1 – £4,500
£1 – £4,500
Blackjack Games
Blackjack Table Limits
Side Bets
Mobile Available
Blackjack Diamond VIP
1
£1,000 – £5,000
£1,000 – £5,000
Blackjack Paris
1
£5 – £5,000
£5 – £5,000
Blackjack
10
£2 – £1,000
£2 – £1,000
Blackjack Platinum VIP
1
£250 – £5,000
£250 – £5,000
Blackjack VIP
7
£50 – £2,000
£50 – £2,000
Blackjack VIP Silver
2
£50 – £1,000
£50 – £1,000
Blackjack Pro
2
£1 – £5,000
£1 – £5,000
Blackjack Party
1
£5 – £1,000
£5 – £1,000
Common Draw Blackjack
2
£1 – £200
£1 – £200
While the table limits aren't anything to write home about, they are definitely smack-bang in the middle of the standard offerings for most online live casinos. If you're wanting to make much higher wages, I'd recommend checking out Betsafe, which has a live roulette option with wagers up to £75,000 welcomed, or Betway, which offers a staggering maximum roulette bet of £100,000.
The SuperLenny Live Dealer Professionals
Drawing from two leading developers has allowed the operator to optimise its live casino to suit a variety of different tastes and styles. The dealers at the tables with lower stakes are dressed in smart suits or blazers for the ladies, lending a great ambience of professionalism to the arena. The higher stakes tables and most of the hosts of the VIP tables take the more glamorous approach, exchanging their business attire for ballgowns and tuxedos. This really emphasises the high roller atmosphere of the live casino, making them stand out from the lower stakes tables.
Live Dealers at SuperLenny
Kiril

Favourite Games:

Dragonara Roulette, Lightning Roulette

Clara

Favourite Games:

Dream Catcher, Goal Smash Roulette

Sonja

Favourite Games:

Baccarat, Dragon Tiger

Cayla

Favourite Games:

Blackjack, Caribbean Stud
Every table that I joined was hosted by a friendly and outgoing croupier who would happily converse about any topic you could think of, and trust me, in my time around live casinos I have seen some rather interesting conversational themes. With a smile and a laugh, the dealers continue to fulfil their roles without being distracted by the players, while managing to remain engaging.
Bonus Offers
Unfortunately, this operator does not have any bonus offers for its users at the time of writing this review, aiming instead to stand on its own two feet without any added extras. There are a lot of different casinos out there that offer a bonus of some description, however a live game-specific bonus is a definite rarity – one I would recommend is the Ladbrokes live bonus, which it offers as an alternative to its standard welcome bonus. I'm always adding to the overview of bonus offers, so be sure to check out that page if you're deadset on finding the best offer.
Behind the SuperLenny Casino Live Software
About half of the SuperLenny live collection of games are sourced from award-winning developer Evolution Gaming, which at the time of writing had just won its ninth straight award from casino magazine, EGR, as best live casino developer. A quick look at the games will show exactly why, from the professionalism of the dealers, the designs of the rooms, the quality of the audio and video. NetEnt, however, must also have its eyes on the prestigious award as it is pulling out all the stops to compete with Evolution. Either way, it's a good thing for me as a player and I am continually impressed by their efforts.
Conclusion – an Awesome Live Casino
Overall, I really like the SuperLenny live casino. Much like the whole Superlenny casino, I've awarded it high marks for its quality and quantity. I think that it really covers all of the most important aspects of a live casino, while throwing in a few added extras. The ability to view four tables at once is a nice way to broaden the players' experience, but I don't know if I have enough concentration to play high stakes or complicated games simultaneously, so mostly I have a slot or two running while I concentrate on the cards in the Caribbean Stud poker game, for example. The dealers are dressed to match the various interior designs, all bringing a touch of class and sophistication to the online casino. The dealers are there to do more than just be aesthetically pleasing, they're also your entertainment, making conversation with players through the chat all while professionally hosting the game, and explaining rules and processes when required. These croupiers are well trained and offer the same pride in their work as you'd find in a land-based casino.
Review Summary for SuperLenny Live Casino
Major Strengths
Top live games from top providers
50+ tables
Major Weaknesses
No bonus offer
Minor Strengths
Great game variety
Minor Weaknesses
PayPal not accepted
It's a shame that there are no bonus offers at the moment, something I hope the operator rectifies in the near future as it was one reason I couldn't give full points. There are plenty of other casinos to choose from if that's a dealbreaker, but for me it's more important to have the right games – in high quality – to play, than a once-off bonus.
Questions and Answers
The online casino sector is incredibly competitive, so particular offers, portfolios and bonuses change all the time. If you've had a read through my review of the SuperLenny live games and found something I need to update, please let me know by sending an email to contact@online-casinos.com.
I don't want to place high bets, what is the best live game?
The lowest wager you can place on any live games is 10p on Dream Catcher or on Auto Roulette. If you'd rather play blackjack, the minimum bet is £1, or you can put 50p down for a hand of Casino Hold'em.